Krishna Sankar Madhavan Pillai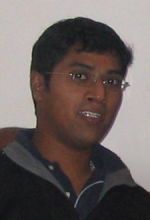 Krishna Sankar M is a Signal Processing Engineer based out of Bangalore, India. His typical activities on a working day involve identifying and modeling digital signal processing algorithms for wireless receivers.

dspLog
The blog started some in February 2007 on the free Blogger platform and was hosted at http://dsplog.blogspot.com with the following objective:
Explain and discuss the basic text book concepts in digital signal processing and digital communication using simple Octave scripts.
Seeing consistent increase in traffic over the 6-7 months from inception, it was decided to move to an independent platform hosted at www.dsplog.com.
Target audience
(a) Students taking courses in digital signal processing/digital communication and requiring help to understand some of the concepts.
(b) Practicing engineers who are fresh to the domain of digital signal processing and requiring help.
(c) Ofcourse, the experienced engineers can share tips and tricks associated with the digital signal processing trade. 🙂
Probable contents
(a) Understanding basic concepts pertaining to FIR/IIR filtering
(b) Sample rate conversion
(c) Bit and Symbol error probabilities for typical digital communicatio
(d) Orthogonal Frequency Division Multiplexing
(e) more… 🙂
Contact via Email
For any queries, clarification, please contact the author at


Subscribe for the feed via Email
Please click here.
Subscribe for the feed via RSS
Please click here